Forest School & Holiday Club
Forest school originated in Scandinavia in the 1950's.  First Steps Nursery have always recognised the need for children to access different environments to meet individual learning styles. Forest schools are led by the child's interests, allowing them to investigate, develop curiosity and exploration using all of their senses, empowering children in the natural environment, and encouraging spatial awareness and motor development.They learn and benefit in areas of social skills such as team-building and cooperation, planning and recognition of their own achievements. By setting children small manageable tasks through fun activities and giving praise, they are given a good foundation for future learning. What better place to learn about nature and the changing seasons than out in the forest itself.
The combination of freedom and responsibility has been particularly beneficial to children who suffer from lack of confidence. With high adult to child ratios, children can safely experience activities that are often prohibited, such as climbing trees and independent exploration, but also controlled risk taking.
The forest schools allow children to grow in confidence and independence and extend their abilities.
All the above forms a firm foundation for your child's future academic learning.
At our New Mills Nursery children access a local woodland and visits continue throughout the year, allowing children to experience all weathers and the changing seasons.
Our Furness Vale Nursery is a Forest Nursery on site and this is used by our 2 to 5 year olds between 9.00am and 4.00pm daily.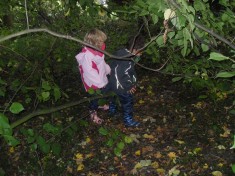 Exploring in Forest School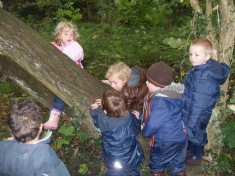 I wonder what they've found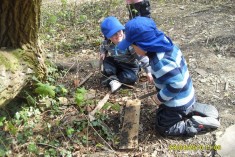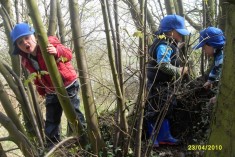 Out and about in the forest